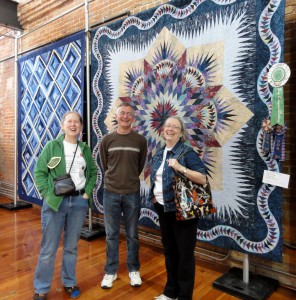 We are quilters in Orange and Durham counties of North Carolina who believe in promoting and perpetuating the art of quilt making. We bring together a diverse community of people who share a common interest in quilting; from imaginative designs and creative techniques, to the craftsmanship of the final creation. We have approximately 200 members of which about 100 attend each monthly guild meeting.
What Do We Do?
We sponsor; creative workshops, stimulating programs, inspiring exhibits and fun quilting events.
We have an extensive donation quilt program, supported by our members, which provide quilts to local hospitals, churches and service organizations.
We present a quilt show every two years featuring the work of our members and raising money for local charities.
The DOQ Guild endeavors to promote a genuine public interest in the quilting arts through outreach and education. We make quilting fun!
Meetings
We meet monthly on the 3rd Monday of each month except for December, when we meet on the 2nd Monday. Social time begins at 6:30 PM and the program starts at 7:00 PM.
We meet in the "Friends and Family Hall" in the parish center on the left side of St. Thomas More Catholic Church, 940 Carmichael Street Chapel Hill, NC 27514.
The guild publishes a monthly newsletter to our membership. If you wish to place an ad in the newsletter please contact our newsletter chair.