Nancy will be teaching "Feathered Star" – a wall hanging for one of her full day classes and the other full day class, she will teach "Round About". Go to Nancy's web site at www.nancymahoney.com to view the quilts and supply lists.
Nancy is a national star and her use of tools and techniques can be applied to ALL your quilting projects.
Her patterns are regularly seen in Fons and Porter and many other magazines.
You can use your own color schemes to make brilliant patterns.
The cost is only $40 for DOQ members or $60 for non-members. Please note that there will be no reimbursement if you sign up but are unable to attend. If you cannot attend, you may find a substitute to take your place.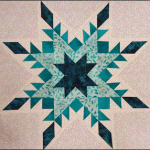 "Feathered Star" is a class that offers cutting and piecing techniques for making accurate triangle squares. Her methods make short work of tricky looking blocks. Design and color possibilities will be discussed. Pattern included for each student. Finished size: 44″ x 44″  Supply list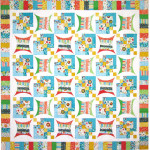 "Round About" is easier to make than it looks. Class time begins with tips for sewing accurate patchwork blocks using strip piecing techniques. Then we'll shift our focus to easy invisible machine appliqué techniques. Discover how surprisingly simple it is to sew perfect curves using turned-edge appliqué. Pattern included for each student.
Finished size: 64″ x 64″. Supply list