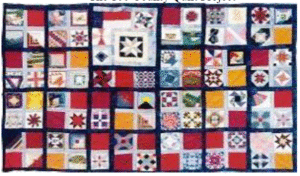 Update! Our guild had been making some blocks for the 100 count NC quilt. As of July 1st, we are only missing 13 counties. The coordinators have contacted guilds and shops in those counties to help us, so we don't need any others from our guild.
During World War II, more young men from North Carolina were rejected from serving in the military because of health reasons than any other state. Not surprisingly, the state's number of doctors and hospitals ranked near the bottom. North Carolina needed a state hospital!
Centralized Chapel Hill, where a two-year medical school, opened in 1879, was expanding to a four-year program, and was seen as the logical setting for the state hospital which would serve all of its people regardless of ability to pay. North Carolina Memorial Hospital opened for business on September 2, 1952, and has grown into five hospitals in the years since.
Before celebrating the opening of the N.C. Women's and N.C. Children's Hospitals on September 8, 2001, Joy Javits was tapped to lead a project that would represent all 100 counties served by the Hospitals. The response was enthusiastic and along with drawings of their county flag by children, and writings by women, a brilliant quilt made by many hands was the centerpiece at the celebration.
Large as the quilt was, 27 counties were not represented, but "holder" blocks were sewn in to provide a place for them. The quilt, as well as the poems and county flags toured 18 counties over seven years. This past fall, Javits, along with Valarie Schwartz, had the idea of furthering the project and continuing the tour.
Co-coordinators
Joy Javits
410 Tadley Drive, Chapel Hill, NC 27514 j
joyinthepubliceye@gmail.com
919.929.5355 or 919.593.6512
Valarie Schwartz
valariekays@mac.com
919.923.3746
Gwen Konsler
gwenkonsler@gmail.com
919.636.1547